Networking Sales

Quality Computer offers a wide array of networking options, from a simple pc sharing network, to a routed, dsl / cable modem ready domain server environment. Browse below some of our options, or call us today for a personalized quote built exactly upon your business's needs.


Netgear 24 Port 10/100 Dual Speed Switch
Autosensing dual-speed ports
Expandable from 8 to 192 users
Full 10/100 Mbps connectivity
Easy plug-and-play installation
Vista network ports with built-in LEDs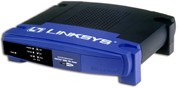 Linksys's cable / dsl router supplies fast direct ethernet access to up to 253 users on your one cable modem or dsl account.